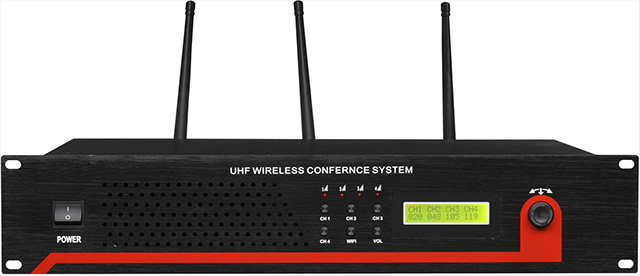 Functional Overview:
* The project installation is easy and simple, the conference room/studio with 32 people basically does not need to be debugged, and the project installation can be completed quickly.
* The function operation is extremely simple, and the one-button function entry operation is clear at a glance.
* Automatic frequency tracking and locking function, no need to pair the frequency, the conference microphone can be used immediately.
* Built-in 60 WIFI communication channels, multi-machine use at the same time without interfering with each other.
* Built-in 520 speaking channels, completely avoid interference.
* Built-in moderate howling suppression function, can effectively reduce the degree of howling.
* Built-in advanced frequency sweep algorithm, which can scan the usage environment and automatically select and use non-interference frequencies.
* Built-in advanced encryption communication algorithm, completely eliminate communication errors.
* Built-in power monitoring function, the conference microphone displays the battery power in real time.
* Built-in chairman priority function.
*Intelligent speaking permission control, support 4 people to speak at the same time, up to 12 people FIFO.
* The conference microphone unit has an automatic shut-off function. If the host is powered off for more than 30 seconds, the conference unit will automatically shut down.
* Fully wireless transmission and control network, just connect the host power supply and audio output power amplifier, you can use it immediately.
*Handheld microphones and conference microphones can be mixed.
technical parameter
| | | | | |
| --- | --- | --- | --- | --- |
| Host working voltage: | DC—12V—14V2A | | Working current: | 600mA |
| Power consumption: | 5W | | Receive Sensitivity: | -105DBM |
| Audio output voltage: | 1V | | Adjacent channel interference suppression: | >60DB |
| Microphone Directivity: | cardioid | | Pickup Sensitivity: | >20DBM (1V) |
| Transmit power: | >+10DBM (10MW) | | Microphone power consumption: | 120mA |
| Receive effective distance: | Barrier-free straight line 60-80 meters | | Audio response: | 50HZ-15KHZ |
| Frequency Stability: | ±0.001% | | Signal to Noise Ratio: | >100dB |
| Distortion: | <0.01% | | | |
Chairman unit: TS-H201C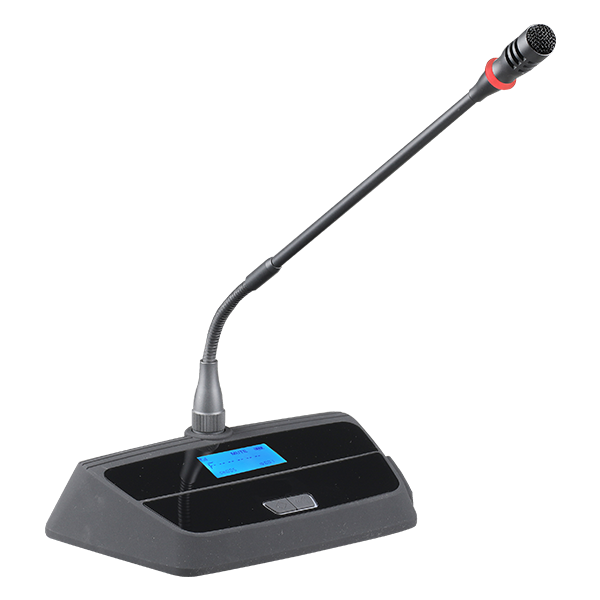 | | | | | |
| --- | --- | --- | --- | --- |
| Frequency Range: | 780-930Mhz | | Acceptance Sensitivity: | -90dBm |
| Radiated power: | <7dBm | | transfer method: | Two-way QPSK frequency hopping communication |
| effective distance: | Line of sight 100 meters | | Battery Specifications: | AA*2 |
| Battery working time: | >7 hours | | Speaking Instructions: | Waiting for the ring to light up to speak, the light ring is off to ban speech |
| Reference audition distance: | 10cm -- 40cm | | | |
Representative unit: TS-H201D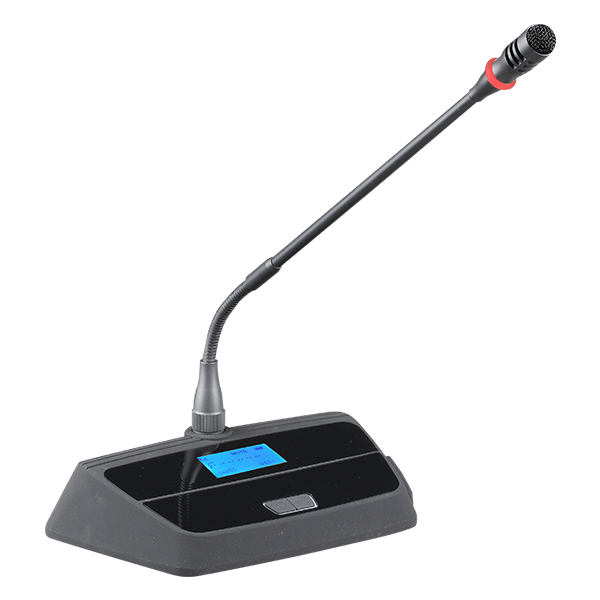 | | | | | |
| --- | --- | --- | --- | --- |
| Frequency Range: | 780-930Mhz | | Acceptance Sensitivity: | -90dBm |
| Radiated power: | <7dBm | | transfer method: | Two-way QPSK frequency hopping communication |
| effective distance: | Line of sight 100 meters | | Battery Specifications: | AA*2 |
| Battery working time: | >7 hours | | Speaking Instructions: | Waiting for the ring to light up to speak, the light ring is off to ban speech |
| Reference audition distance: | 10cm -- 40cm | | | |