Host Features Overview
* The digital control and sound signals connecting the main control machine and the conference system unit are transmitted by the same cable (six cores).
* It can be operated independently or with an external computer combined with software to achieve a variety of conference management functions (conference mode or operation: designated speech, free speech and first-in-first-out speech, etc., and can be used in conjunction with the video tracking host to achieve video tracking Function)
* Built-in power supply, output power of 450W, can drive more than 50 groups of speaking devices, just add expansion devices to drive more than 200 groups of speaking devices.
* Has four groups of 6P-DIN sockets for system connection. (or optional network cable interface)
* With audio output interface, there are balanced and unbalanced.
* Built-in volume adjustment processor, can adjust the high and low bass.
* The system volume is independently adjustable.
* Has an AUX input.
* The automatic shutdown function of the attendance unit is optional.
* There are four mode function setting buttons and LCD display on the panel.
* Support a variety of conference modes such as: free discussion, first-in first-out, restricted speech, etc.
* It can provide data communication port for video central processing unit.
* Frequency response: 50—16K SNR: 90DB Distortion: <0.2% 1KHZ
* Output impedance: 600Ω
* Maximum power consumption: 250W
Chairman Model: TS-CF3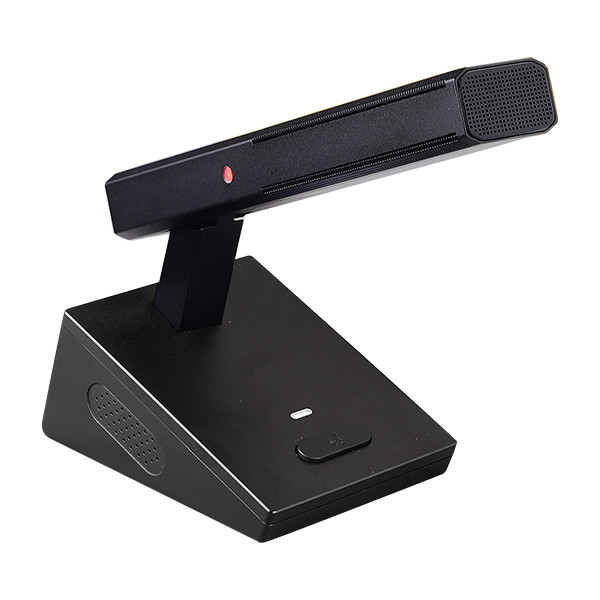 * Frequency Response: 60-16KHz
* Sensitivity: -42dB±2dB
* Reference speaking distance: 20-100cm
* The microphone has a speaking key and indicator light, which can control/indicate the state of the machine
* With the chairman's priority control button, it can terminate the working status of all speaking representatives' microphones
* The number of chairman units in the system is not limited and can be placed anywhere in the loop
* The chairman unit in the system is not restricted by restricted functions
* Wrap-around condenser microphone boom with speaking indicator halo
* The unit is powered by the system host, and the input voltage of 24V is within the safe range
* With automatic video tracking
Representative model: TS-DF3
* Frequency Response: 60-16KHz
* Sensitivity: -42dB±2dB
* Reference speaking distance: 20-100cm
* The microphone has a speaking key and indicator light, which can control/indicate the state of the machine
* Wrap-around condenser microphone boom with speaking indicator halo
* The unit is powered by the system host, and the input voltage of 24V is within the safe range
* With automatic video tracking
* Hand-in-hand connection between units
Instructions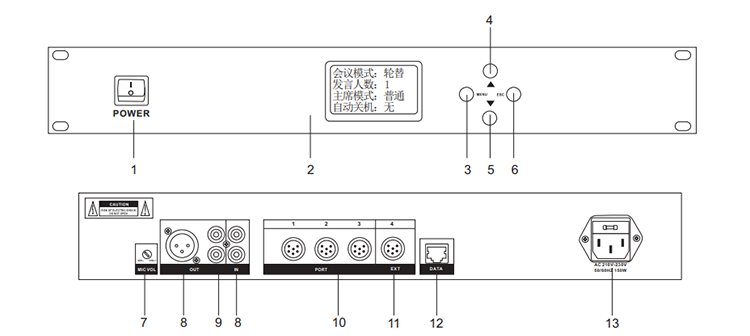 1: (POWER) Power switch
2: LCD display
3: MENU menu key
4: Up button
5: Down key
6: ESC key
7: System total output volume adjustment potentiometer
8: (AUX IN) AUX input socket (phone coupler. DVD, etc.)
9: System line unbalanced output (LINE), system recording output (REC), balanced signal output (BAL)
10: Unit terminal block
11: Extended interface
12: (DATA) data interface (connect to video tracking host) 13: power socket
14: Fuse socket (use 10A fuse)

System Connection Reference Diagram